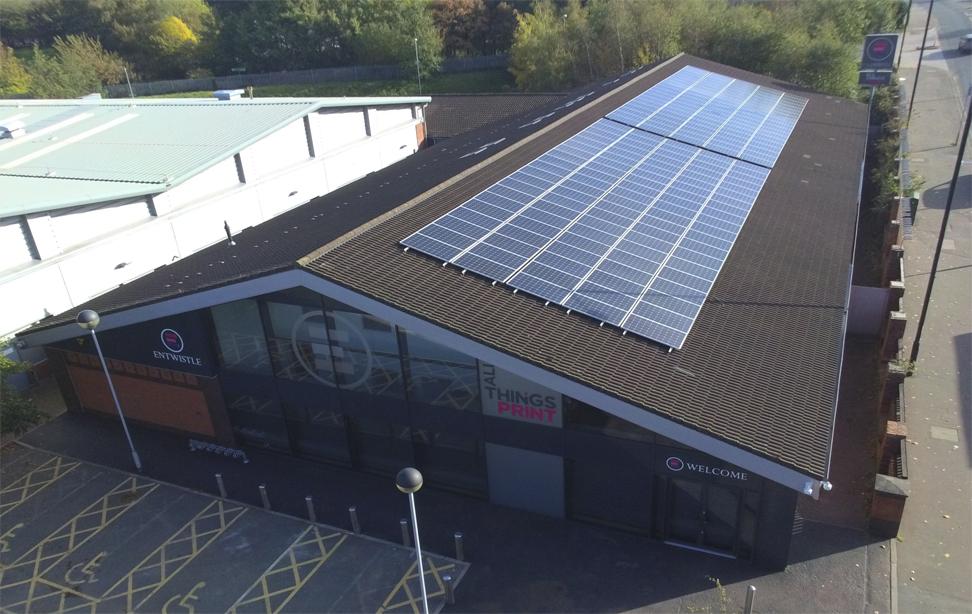 At Entwistle Group we believe we have adopted policies that make our ESG statement one of the most compelling for any printing company in the UK.
The environmental aspect of our ESG policy
Our commitment to the environment does not just include our own operating policy, but extends to our proactive encouragement of clients to opt for the use of printing methods, processes and materials in the products they request from us.
Our ESG-oriented printing services
We are committed to using FSC ® certified paper and encourage our clients to use it as we believe this has the lowest environmental impact of any paper product. Where a client does not specify a choice of paper we default to printing on environmentally friendly paper. In addition, we utilize recycled paper and promote the use of green and environmentally friendly alternatives to PVC boards and single-use plastic, the former including compostable exhibition stands made from recycled materials, as well as the use of biodegradable laminate films.
To minimise waste and to maximise the advantages of modern printing processes which have done away with the need for large print runs to reduce overall unit costs, today we focus on low-volume printing and reordering volumes.
ISO 14001:2015 accreditation
Many of our customers require us to have the gold standard ISO 14001:2015 Environmental Management System accreditation which we regularly update in the same way that a progressive ESG print company has a robust and evolving ESG statement.
ISO 9001:2015 accreditation
Our work processes, systems and staff performance are all audited by an external third party to ensure customers receive the highest quality of service and only then are we awarded ISO 9001:2015 for Quality Management accreditation
Minimising our carbon footprint and respecting the environment
Substantial reductions in our carbon footprint have been achieved through the following measures:
Energy efficient printers
Reduction in operational footprint by combining our two principal sites into one unit
Locating as many servers in house and powered by solar energy
Encouraging employees to cycle to work
100% RENEWABLE ENERGY
As a company we are happy to pay a premium to ensure our energy is supplied from 100% renewable sources. Apart from the obvious advantage of zero CO2 emissions we believe that businesses and individuals by creating demand can provide the incentive for institutions to invest in more renewables which will ultimately drive down price and accelerate the switch from fossil fuels.
Solar panels
Through the extensive use of solar panels we have substantially reduced our carbon footprint. We now produce in excess of 100,000 kWh p/a.
Carbon Offsetting
We already contribute to a carbon offsetting scheme to mitigate 330 tonnes of CO2 and to advance our objective of being Net Zero by 2024.
Low energy green printing machines
Beyond renewable energy, we deploy printing techniques that complement our "green" ethos through the use of energy efficient printers and non-solvent-based printing inks. Our HP Indigo printers form the backbone of our business with a carbon-neutral manufacturing process as they have their own built in recycling plants to clean and recondition printing "oil", which saves up to 30 litres of waste per week whilst avoiding disposal issue. Additionally, when operated using our own generated electricity, run off our vast solar panel network, their operation is carbon neutral.
New environmentally sound premises replaces two outdated buildings
To increase efficiency and reduce waste, again also reducing our carbon footprint, we combined two of our operations (Middleton and Manchester city centre) under the one roof at our new environmentally friendly printing facility at Openshaw. Our Middleton operation was an 18,000 sq ft warehouse dating back to the 1960's with poor insulation and inefficient heating systems whilst our KIng Street West Manchester city centre site occupied 11,000 sq ft on multiple floors with similarly poor energy efficiency measures. In addition to the inclusion of solar panels at our new Openshaw premises, we have also used low-energy LED lighting connected up to motion sensors, exceptionally high insulation levels, installed water-saving toilets and maximized the area of heat-generating glass throughout to create an environmentally friendly printing factory.
To further reduce the environmental impact, we chose to purchase and adapt former supermarket premises as opposed to having new, purpose-built premises.
Servers
Wherever possible we use our on-site servers powered by our own solar generated electricity. External servers located at data centres contribute to high levels of CO2 being emitted.
Cycling to work
We encourage employees to cycle to work and have built an extensive secure bike rack and provide showers for staff to freshen up before starting their working day. Wherever practical, we look to cycle couriers to collect and deliver printed materials.
We are a Net Zero printing company but this isn't enough
Entwistle Group are already a net-zero printing company based on Scope 1 and Scope 2 of the GHG Protocol which looks at the amount of CO2 produced by companies based on their consumption of electricity, gas and fuel. In practice this is easily achieved if all your electricity is from renewable sources and you support a carbon offsetting scheme. Far harder is Scope 3 of the GHG Protocol which factors in supply chain emissions, employee commuting, waste disposal and even investments. This is now our focus and we believe this is achievable by 2024.
Recycling wherever possible
Recycling is a vital element of any ESG policy and Entwistle currently strives to achieve an 85% recycling rate of all materials used. We have increased our recycling collections from one to four per week, covering all plastics and paper used.
Ink cartridges used by Entwistle are recycled by the manufacturer.
Pallets used for delivery of materials are recycled to create animal bedding.
Where possible, we repurpose existing materials, such as packaging and boxes.
We aim to recycle all packaging materials salvaged when installing a new printer for a customer.
Extending the life-cycle of printers
In addition to optimal maintenance of all printers used by Entwistle, we also offer service contracts to those who purchase printers through us. The result is greater efficiency of machines when in operation and a noticeably longer lifespan of supplied printers.
The social aspect of our ESG policy
We have a very robust General Data Protection Regulation (GDPR) policy. Further we encourage customers to observe GDPR by offering them personalised print marketing solutions using their databases to target customers with offers that are tailored to their needs. This reduces wasted print and achieves higher returns. We also encourage the use of cross-media campaigns where we design and send interactive emails if printed campaigns might not be the best solution.
We are a progressive employer and adopt an equal opportunities stance.
We have numerous long serving staff as a result of the attention we pay to optimal working conditions.
We have a robust Health & Safety Policy and to ensure the safety and wellbeing of all our staff and employ an external auditor to monitor and oversee our Health & Safety governance.
We only supply products from industry standard leading companies where we are confident that their production facilities comply with anti-slavery measures where appropriate.
We have robust anti-corruption and anti-bribery policies in place.
We have a detailed anti-slavery policy.
All our staff are encouraged to take full maternity and paternity leave.
Where appropriate we offer flexible working hours and allow employees to work remotely from home.
We have a strong grievance policy which is fully documented in staff handbooks.
We support several private charities and contribute to several local organisations.
The governance aspect of our ESG policy
Entwistle is privately owned and historically shareholders have received very low dividends. Much of the success of the business stems from a willingness of shareholders to reinvest in the business, particularly over more recent years where there have been numerous technological developments which have revolutionized the printing industry.
The earnings ratio of our highest-paid employee to the lowest is one of the lowest in our sector.
We have generous employee profit schemes in place.
In our industry we believe we are the pre-eminent ESG printing company and will continue to push the envelope for years to come.